Thunderer Barrage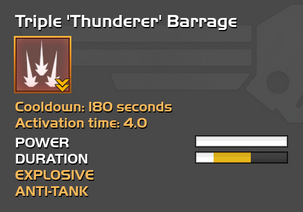 "A continuous barrage from nearby 'Thunderer' artillery is called in on the target area. Anything in the area stands a high risk of sustaining injuries and/or death from the powerful 130mm shells. Lasts for 3 salvos."
- Armory Description
Players must enter the following sequence, using the controller d‑pad, in order to call down this Stratagem during a mission:

The Thunderer Barrage is granted to the player as a reward for completing all the missions on its associated planet (typically a medium-low level planet - difficulty 4 to 6).
Upgrade
Cost
Effect
Mk1
Basic variant, no upgrades.
Mk2
2
Additional ammunition allows for 6 salvos. Stratagem name changed to Double 'Thunderer' Barrage.
Mk3
2
Supply priority order allows for enough ammunition for 9 salvos. Stratagem name changed to Triple 'Thunderer' Barrage.
Each salvo contains 3 shells, the spread of which can vary considerably. Experienced Helldivers know to keep well away from the targeted area.
This Stratagem can be used to destroy mission targets (Cyborg AA Guns, Bug Nests or Illuminate Beacons) instead of the standard-issue NUX-223 Hellbomb. Like the Shredder Missile Strike and the Missile Barrage, the Thunderer can destroy the Illuminate Beacons whilst their shields are still up.
You probably don't want to stand near the beacon