Resupply Pack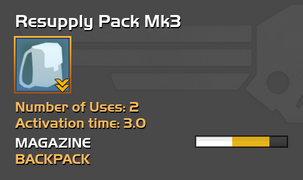 "A backpack capable of carrying 2 crates of ammunition which both you and other Helldivers can resupply from. Ammunition that is picked up will automatically be added to the Resupply Pack."
- Armory Description
Players must enter the following sequence, using the controller d‑pad, in order to call down this Stratagem up to two times per mission:

The Resupply Pack is granted to the player as a reward for completing all the missions on its associated planet (typically a medium-low level planet - difficulty 4 to 6).
Upgrade
Cost
Effect
Mk1
Basic variant, no upgrades.
Mk2
2
The pack can now carry 2 more ammo crates, for a total of 4.
Mk3
2
Upgraded supply capabilities now allow you more uses per mission. Number of uses increased from 1 to 2.
When equipped with a Resupply Pack, picking up an ammunition box restores not only a Helldiver's current weapon ammo and grenades, but also adds a use to the Resupply Pack itself. As this effectively doubles the amount of ammunition gained from every box, it is more efficient to allow a dedicated ammo carrier to collect as many ammo pickups as possible.
A Resupply Pack can only be used by the wearer if they are low on ammunition; the prompt to use the pack will not appear otherwise.
The Resupply Pack can be used by players even if the wearer is inside an Exosuit.