Reinforce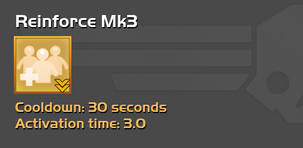 "Call down reinforcements to replace the Helldivers lost in action."
- Armory Description
Players must enter the following sequence, using the controller d‑pad, in order to call down this Special Stratagem during a mission:

The Reinforce Stratagem is standard-issue and available to all Helldivers regardless of rank. However, Helldivers are only able to use the Stratagem during missions involving at least two players.
Upgrade
Cost
Effect
Mk1
Basic variant, no upgrades.
Mk2
1
Cooldown reduced from 60 seconds to 45 seconds.
Mk3
2
Cooldown further reduced to 30 seconds.
The Reinforce Stratagem is only available if there are two or more players in the squad. Solo players do not have access to it, and are Auto-Reinforced by Helldivers Command.
It is essential for any Helldiver in a squad to learn this Stratagem's code by heart, so it can be performed quickly in case of an emergency.

For this same reason, this should be among the first Stratagems to be upgraded by co-op players.
Also work on learning to use Reinforce while downed, as it can save the entire team. Holding on to the beacon as you are killed will let you reinforce yourself and anyone else who might have died.
Additionally, learn to quickly input Reinforce with inverted controls, so you can use it when the Illuminate Illusionists and Council Members have hit you with their confusion attacks. If you are too slow, your input could return to normal while you are still entering the code.
Throwing a Reinforce Beacon will slightly pull the screen towards the location where it lands for a few seconds. As you basically get an infinite supply of these, the Beacons can be sparingly used in emergencies for spotting offscreen enemies or freeing yourself if you get stuck on the edge of the screen.