REP-80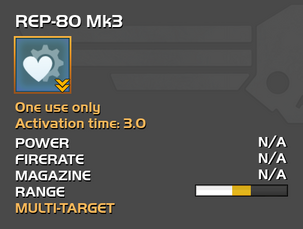 "This is a very versatile repair tool capable of repairing damaged vehicles as well as mending flesh. Helldivers proficient with the REP-80 are much loved by their comrades; no one enjoys to die."
- Armory Description
Players must enter the following sequence, using the controller d‑pad, in order to call down this single-use Stratagem during a mission:

The REP-80 is granted to the player as a reward for completing all the missions on its associated planet (typically a medium-low level planet - difficulty 4 to 6).
Upgrade
Cost
Effect
Mk1
Basic variant, no upgrades.
Mk2
2
The beam now chains, making it capable of healing multiple targets at the same time.
Mk3
2
Range of the beam is improved by 50% (from 12m to 18m).
The REP-80, colloquially referred to as the Medic Gun, is a purely defensive Stratagem that gives potent healing and repairing abilities to Helldivers. Primary fire heals allies and repairs friendly non-organic units quickly and has the added benefit of being able to revive teammates from a distance. When fully upgraded, the REP-80 is an invaluable tool for a defensive or support-focused loadout, letting its user bring back fellow divers and vehicles back from the brink of death.

To prevent friendly fire incidents, always, always remember to check whether the REP-80 is actually equipped before attempting repairs.
This stratagem has virtually no offensive capabilities aside from a weak melee attack and leaves its user almost completely defenseless while equipped, requiring strategic use and situational awareness during use.

The REP-80's beam can heal targets at a rate of 300 Health per second, enough to bring a Helldiver back to full health from near death in under a second and allow them to withstand continuous damage. By contrast, the AD-289 Angel heals a single target at a rate of 20 Health per second, cannot be aimed manually and does not require switching to the secondary weapon slot to use, however it can heal its user unlike the REP-80.

The REP-80 can quickly neutralize certain status effects such as Toxic and Fire damage over time and can even repair vehicles from a burning state so long as they have health or constitution remaining. It also has the added benefit of being able to revive downed Helldivers and Survivors from a distance, keeping its user well outside of danger. It is not capable of repairing most objectives, however.
Focusing the beam on a teammate equipped with the SH-32 Directional Kinetic Shield will allow them to soak up a surprising amount of damage and go toe-to-toe with more dangerous foes, although this is offset by having one less teammate to provide fire support. This is a highly situational use of this stratagem but remains useful during defense objectives.
Because the repair beam can automatically split off to heal other nearby friendlies within a limited range, focusing on a stationary target is often the best approach to healing multiple entities at once as it removes the need to track targets manually.

The beam cannot penetrate Illuminate Obelisk walls, but it can stay active if the beam is already locked on to an entity prior to a wall forming.