Missile Barrage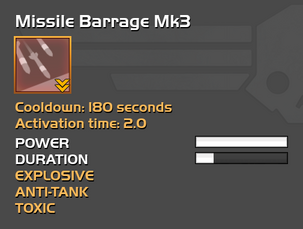 "A portable missile battery fires a salvo at the targeted location, pretty much obliterating anything in the targeted area. The missile battery takes a substantial amount of time to reload, but its destructive capability is matched only by the Shredder. The Missile Barrage is part of the Terrain Specialist equipment kit."
- Armory Description
Players must enter the following sequence, using the controller d‑pad, in order to call down this Stratagem during a mission:

Missile Barrage is a DLC Stratagem, available at any rank to those who purchase the Terrain Specialist Pack.
Upgrade
Cost
Effect
Mk1
Basic variant, no upgrades.
Mk2
2
Upgraded rockets with a better booster allow them to arrive faster (Activation time reduced from 3 seconds to 2 seconds).
Mk3
2
Missiles now carry a chemical warhead, allowing them to poison anything that survives the barrage.
The toxic warheads carried by the Mk3 Missile Barrage can kill a Helldiver three times over and the effect is similar to the TOX-13 Avenger's spray or the Mk3 M-25 Rumbler's toxin. Those affected by the toxin can still be saved, however, by quickly moving over to them and helping them off the ground three times in quick succession as the poison wears itself out.
"Danger close" is not actually a myth