M2016 Constitution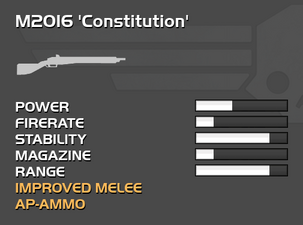 "The M2016 'Constitution' is a reproduction of the old M1903 service rifle used in ancient times. It is fairly ineffective in combat but is used within the Super Earth Armed Forces as a ceremonial rifle. Every citizen is issued one once they turn 16 to encourage service."
- Armory Description
The M2016 Constitution was given for free to all players regardless of rank to celebrate Liberty Day on on October 26th 2016. It is unlocked by default for new recruits so long as the latest version of the game is used.
Upgrade
Requirements
Cost
Effect
Bayonet
1
Greatly increases melee damage and range.
Bayonet
Affixes a long blade under the barrel of the gun, turning it into a simple but formidable melee weapon. Greatly increases melee damage and range but slows down melee speed.
Helldivers start missions with 50 spare rounds and can carry up to 99 in reserve. If 2 or less rounds remain in the internal magazine when the weapon is fired, the 'low ammunition' warning sound will play.
The Constitution reloads one shell at a time and takes a minimum of 3.1 seconds to reload when empty and 2.2 seconds if one round remains in the chamber. Reload time for each round is 0.55 seconds unless the internal magazine is empty; the first round takes 0.9 seconds to load on an empty magazine. The Constitution has a fixed round capacity and does not have a separate animation for first-round-loading, for this reason it has no tactical reload animation nor can it exceed 5 rounds in capacity.
M2016 'Constitution' Detailed Analysis
Weapon Info
Additional Notes
Unlock Rank
Rank 1
Unlocked as part of the Liberty Day 2016 celebration
Weapon Type
Primary
Weapon Category
Precision
Fire Mode
Bolt-action
Damage
Base
Upgraded
Additional Notes
Damage
300
300
Center Mass Damage
400
400
AP Ammo Armor Reduction
-15
-15
Statistics
Base
Upgraded
Additional Notes
Cyclic Rate of Fire (RPM)
78
78
Varies, based on delay between trigger pulls
Capacity
5
5
Fixed capacity
Starting Reserve Ammo
50
50
Max Reserve Ammo
99
99
Empty Reload Speed
3.1 s
3.1 s
Varies, depends on delay between reload input commands
Tactical Reload Speed
2.2 s
2.2 s
Varies, depends on delay between reload input commands
Per-Shell Reload Speed
0.55 s
0.55 s
First Shell Reload Speed
0.9 s
0.9 s
Only applies to empty magazine
Min Spread
0°
0°
Max Spread
3°
3°
Spread Increase per Shot
0.6°
0.6°
Max Range
40 m
40 m
Bullet Spread Simulation
todo
The Constitution handles like a hybrid of the SG-8 Punisher and the LHO-63 Camper, reloading one round at a time like the former while having the perfect accuracy and long range of the latter. Helldivers familiar with the Punisher will find little difficulty in adjusting to this weapon's handling and combat style, as it is nearly identical to the Punisher's.
The Constitution does not discard ammo on a tactical reload due to its per-shell reload. As such, it is recommended to always reload as often as possible to keep its relatively tiny magazine full.

The Constitution's reload mechanic allows it to be reloaded after every shot is fired, effectively giving it a bottomless magazine. This allows it to maintain a steady rate of fire so long as there is ammo in reserve. It is important to avoid getting stuck reloading the last round in the Constitution's magazine when reloading after every shot, as it will nearly halve the speed at which rounds can be loaded and fired.
In addition, moving while firing or firing immediately after reloading will cause the shot to land off-center and to the right relative to the point of aim; take this into consideration and compensate for this by aiming slightly left of the target, or allow a fraction of a second to recover from reloading before firing.
The Constitution's single upgrade gives it a Bayonet, giving it some better combat ability in close quarters. Helldivers that have experience with advanced techniques such as Melee Dodging and Melee Snap Aiming can stagger melee and single shots to greatly increase its damage output in close quearters combat or quickly snap between targets on opposite sides of the player. Once these techniques are mastered and the reload timing becomes muscle memory, the Constitution is an incredibly effective weapon to use against foot soldiers and faction patrols, offering a solid alternative to the SG-8 Punisher.

As with all weapons with bayonets, unshielded Helldivers can be killed with a single bayonet attack unless they are wearing Heavy Armor. Exercise caution when using melee near teammates! The bayonet upgrade also extends the range covered by the Melee Dodge technique, allowing for more distance to be covered and a larger snap-aiming window with weapons while moving. Without a bayonet, this technique requires more precise timing to reliably use. Consult the Advanced Gameplay Techniques page for more information on Melee Dodging.
The Constitution is based upon the A1 variant of the M1903 Springfield, an American bolt action rifle chambered for the .30-03 cartridge. Its official designation in-game is a nod to the year the weapon was released during the Liberty Day update on the 26th of October, 2016.
The Constitution lacks a separate animation for an empty reload, instead having a longer delay after reloading the first round.