LAS-5 Scythe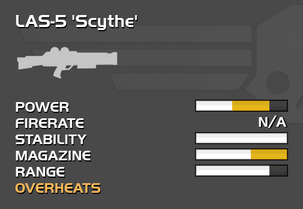 "This continuous beam weapon consumes no ammunition unless it overheats. The weapon needs to be loaded with emergency heat dump canisters to fire."
- Armory Description
The LAS-5 Scythe unlocks at rank 7 (Sergeant).
Upgrade
Requirements
Cost
Effect
Heat Capacity
2
Increases the amount of heat absorbed before overload.
Heat Sink
Heat Capacity
1
Increases the rate at which the weapon dissipates heat.
Laser Overcharge
1
Increases damage and heat generation.
Increased Overcharge
Laser Overcharge
2
Increases damage and heat generation.
Heat Capacity
Adds another emergency heat dump canister to the weapon, increasing how much heat can be absorbed before an emergency dump is triggered.
Heat Sink
Increased heat sink capacity improves the cooling rate of the weapon while also increasing the time window for continuous fire.
Laser Overcharge / Increased Overcharge
Overcharging the laser causes it to output more damage at the cost of generating more heat. Increases damage per second.
Helldivers start missions with 3 heat dump canisters and can carry up to a maximum of 6.
The Scythe takes 3 seconds to replace its heat dump canisters, although this is only necessary if the weapon overheats. This process cannot be sped up by any means.
LAS-5 'Scythe' Detailed Analysis
Weapon Info
Additional Notes
Unlock Rank
Rank 7
Weapon Type
Primary
Weapon Category
Laser
Fire Mode
Continuous
Damage
Base
Upgraded
Additional Notes
Damage per Second (DPS)
200/s
250/s†
275/s‡
† Requires Laser Overcharge, ‡ Requires Increased Overcharge
Center Mass DPS
450/s
500/s†
† Requires Laser Overcharge
Statistics
Base
Upgraded
Additional Notes
Heat Capacity
400
520*
* Requires Heat Capacity upgrade
Heat Generation
100/s
120/s†
140/s‡
† Requires Laser Overcharge, ‡ Requires Increased Overcharge
Cooldown Rate
200/s
300/s¤
¤ Requires Heat Sink upgrade
Starting Canisters
3
3
Max Canisters
6
6
Reload Speed
3 s
3 s
Has no tactical reload
Spread
0°
0°
Fixed firing pattern
Max Range
100 m
100 m
To be confirmed
Aim + Movement Speed Mod
todo
todo
Spread Simulation
todo
The Scythe is likely the first laser weapon Helldivers will unlock (not counting the LAS-13 Trident) and is the laser equivalent of the AR-19 Liberator, acting as an introduction to laser weaponry. The Scythe handles very differently compared to ballistic weapons; it has perfect accuracy, deals continuous damage to whatever its beam hits, and it has a much slower turning speed while firing. Once fully upgraded, the Scythe fulfills the same role as the Liberator with slightly higher DPS and much more range. Like the Liberator, a fully upgraded Scythe fares well all the way up until midgame, however it is greatly outperformed in most aspects by other laser weapons on higher difficulty planets.
The Scythe deals a reasonable amount of damage per second but has a somewhat small heat capacity at first and turns very slowly while firing, making it awkward to use at first until fully upgraded and its user has had time to adjust. Sweeping fire with the Scythe is not recommended against most enemies as it will waste firing time due to hitting off-center and dealing only ~50% damage, or missing entirely. It is recommended to let go of the trigger to adjust your aim or switch between spread out targets to let the weapon cool down and ensure more firing time is spent on-target.
Like all laser weapons, the Scythe will visibly vent steam when at 50% base heat capacity, and emit both an audible alert and even more steam when at 80% base heat capacity, warning its user that an emergency heat dump is imminent. Use these visual and audio cues to learn the heat up/cool down timing for the Scythe to prevent having to change heat dump canisters in the middle of a firefight.
The Scythe is one of the few primary weapons capable of cutting through the armor of most Cyborg units, naturally barring the IFV. Hitting any unit up to and including a Warlord will deal at least partial, if not full damage. This allows Scythe users to take out almost every Cyborg unit on their own without the need for anti-tank Stratagems, although this method is slow and horribly inefficient.