Ammunition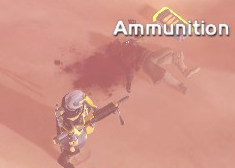 Ammo packs can occasionally be found throughout combat areas, but generally not in sufficient quantities to replace use of the Resupply Stratagem. Unlike requested Resupplies, those pre-placed ammo boxes do not disappear after a set time limit.
Cyborg AA Nests can have a rack of anywhere between 2-6 packs.
Certain Super Earth structures (such as the bunkers used for Escort and Capture objectives) may have 1-2 ammunition packs nearby.
Rarely, ammunition packs can be found near deceased Super Earth regular army soldiers.