AD-289 Angel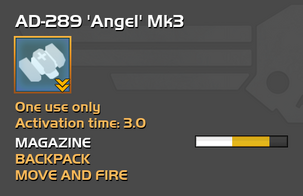 "The AD-289 Angel is a support drone capable of healing injured Helldivers that are nearby. It has limited supply of the regenerative substance and must land in the backpack to refill when it runs out. The AD-289 is part of the Support equipment kit."
- Armory Description
Players must enter the following sequence, using the controller d‑pad, in order to call down this single-use Stratagem during a mission:

The AD-289 Angel is a DLC Stratagem, available at any rank to those who purchase the Support Pack.
Upgrade
Cost
Effect
Mk1
Basic variant, no upgrades.
Mk2
2
Increased supply of the regenerative substance.
Mk3
2
An upgraded stabilizer allows the drone to move and heal at the same time.
The AD-289 Angel is one of two personal defense drones available to Helldivers, the other being the AD-334 Guard Dog. It is more defense-oriented than its counterpart and shares similar mechanics and behaviour, orbiting its user until needed and retiring to its backpack to recharge between skirmishes. The Angel automatically heals allies and repairs friendly non-organic units in range and has the added benefit of being able to revive nearby teammates. Once fully upgraded the Angel is capable of healing on the move and can moderately enhance its user's survivability, although it makes for a poor support Stratagem for a team and requires recharging once depleted.
The Angel automatically heals targets at a rate of 20 health per second while in range of its owner. While not as potent as the REP-80, it has similar benefits and allows the use of other weapons while active.

Like the REP-80, the Angel can neutralize certain status effects such as Toxic and Fire damage over time and can even repair vehicles from a burning state so long as they have health or constitution remaining, however it is not capable of repairing most objectives.

The Angel's healing rate is far slower than the REP-80's and its limited use before needing to recharge makes it a very poor choice for repairing vehicles and turrets.

If the Angel does not use its healing capabilities for longer than 15 seconds, it will return to its owner's backpack to fully recharge.
The drone cannot leave the backpack if its user is inside a vehicle. While using a vehicle, the Angel will automatically begin charging. It will immediately redeploy upon exiting once charged.
The AD-289 Angel was re-balanced in Patch 7.00. The stratagem will return to backpack to rearm if left idle for 12 up to 20 seconds.